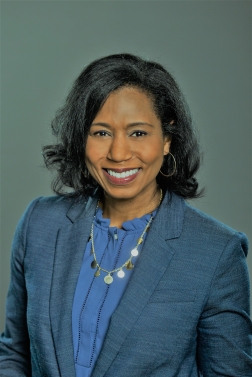 Employer
Saint Mary's Foundation, Mercy Health Saint Mary's
Job Title
Director of Philanthropy
Address
200 Jefferson Ave SE
Grand Rapids, MI 49506
United States
Email Address
smikella@mercyhealth.com
Biography
Kelli Smith, CFRE joined Saint Mary's Foundation in 2011 shortly after arriving in Grand Rapids. In her role as Senior Special Gifts Officer, Kelli is responsible for leading the development and implementation of major and planned giving strategies to increase overall philanthropic support to Mercy Health Saint Mary's. Kelli serves as the Foundation's liaison for several fund development committees, providing support and direction to key volunteer stakeholders and clinical allies. Kelli's professional and community affiliations include: • Catholic Charities of West Michigan, Board of Directors, Vice President – 2013-present (President beginning October 2017) • Western Michigan Planned Giving Group, Board President – 2016-2017; Ex-officio 2/2017 and Nominating Committee Chairperson • Trinity Health Systems Philanthropy Planned Giving Committee – 2015-current • East Grand Rapids Schools Foundation, Major Gifts Committee Co-chair – 2017-current • Greater Grand Rapids Chapter of Jack & Jill of America, Inc. 2011-2014, 2016-present • Crew Board, Corresponding Secretary, East Grand Rapids High School Rowing Team – 2015-16 • Lake Michigan Academy, Fund Development Committee 2014-2016 • Leadership Grand Rapids, Class of 2015 • Kentwood Community Church, Board of Elders 2013-2015 • Association of Fundraising Professionals (AFP) Member • Association of Health Care Philanthropy (AHP) Member Prior to joining Mercy Health Saint Mary's, Kelli served as a Senior Major Gifts Officer at Beaumont Hospital's Foundation, after spending more than a decade in academic advancement. Kelli is a graduate of University of Detroit Mercy with a Master of Science in Health Services Administration. Kelli enjoys being active and spending time with husband, Chris, two children, extended family and great friends.
Headshot
Kelli Smith
Headshot
2264 KB
Title of Presentation 1
A Look at Planned Giving through the Beginner's Mind...(Beware! It's not just for beginners.)
Presentation Description
To determined with local council
Title of Presentation 2
Demystifying the Grateful Patient Pipeline
Presentation Description
To be determined with local council
Title of Presentation 3
Equipping Your Planned Giving Toolbox with the Right Tools
Presentation Description
To be determined with local council
Presentation Topic Areas
To be determined with Council
Contact Information
Please provide contact information for the person councils should contact to arrange speaking opportunities. This will display on the Speaker Bureau Directory.
Email Address
smikella@mercyhealth.com