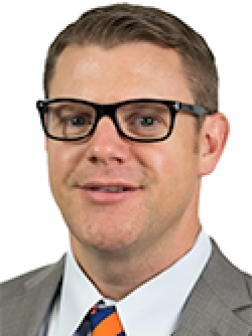 Employer
University of Florida
Job Title
Assistant Vice President, Gift Planning
Address
Emerson Alumni Hall, 1938 West University Ave
PO Box 14425
Gainesville, FL 32604
United States
Email Address
pcaspersen@uff.ufl.edu
Biography
Paul Caspersen, Assistant Vice President for Gift Planning at the University of Florida, brings complex financial thinking to the charitable planning field. As a Certified Financial Planner, Paul has 20 years of financial, estate, and charitable planning experience. Paul and his office are tasked with an overall combined Gift Planning goal over $140 Million annually in deferred, real estate, and other complex gifts. He is a key member of the Senior Management Team that is directing UF's next comprehensive campaign. Paul was the Executive Director in the Office of Gift Planning at the Iowa State University Foundation from 2009 to 2013. Prior to that, Paul was a Wealth Management Advisor with TIAA-CREF and served as the Firm's Managing Principal for Iowa. Mr. Caspersen earned a Bachelor's degree from the University of Northern Iowa and a Master's degree in Financial Planning from the College for Financial Planning in Denver, CO. Paul is author of the financial planning book entitled, "Direction Memo: How to Write a Letter of Instructions for Your Estate Plan." 352-392-5513 pcaspersen@uff.ufl.edu
Position
CGP Conference Speaker
Headshot
Paul Caspersen
Paul Caspersen
24 KB
Title of Presentation 1
"Top 3 Ways to Position Life Insurance for Charitable Planning."
Presentation Description
This presentation was CE delivered at the NAIFA Florida conference in June 2017. The purpose was to lead a discussion about three tactics from basic to complex on developing significant planned gifts using life insurance using real life case studies.
Title of Presentation 2
Session Description: Planned Giving 2030: A Philanthropic Solution for Baby Boomers
Presentation Description
Nationally, there are roughly 10,000 Baby Boomers turning 65 every single day through the year 2030! Boomers are the first unique generation impacted by divorce and blended families, requiring unique approaches to estate and charitable planning. Attendees will leave this session with a deeper understanding of planned giving strategies for key donors to your organization born between 1946 and 1964, likely the most important segment of your donor base. This session qualifies for CFP continuing education.
Title of Presentation 3
Charitable Gift Annuities May Answer the Fixed Income Question
Presentation Description
This presentation is built around one of my peer reviewed journal article published in Trust and Estates from December of 2016. A charitable gift annuity can provide a surrogate for fixed income during retirement in an environment of low interest rates that may linger for decades. This article addresses how a CGA can be both a philanthropic and financial tool from simple to the most advanced concepts.
Presentation Topic Areas
Gift Design, Current Events, Marketing/Cultivation, Administration, Integrated Planning
Other - Write In
Building Professional Advisor Networks
Contact Information
Please provide contact information for the person councils should contact to arrange speaking opportunities. This will display on the Speaker Bureau Directory.
Email Address
sraulerson@uff.ufl.edu
If you are not a current CGP Board member, please include information about your fee.
basic travel expenses, and fee based upon the terms of the engagement